Oxford GreenPrint
…is a workers' co-op providing eco-friendly print
services to Oxford and beyond.   We offer:
Risograph printing – very green, good value and no waste.
100% post-consumer recycled paper and card.
Non-toxic veg-oil inks – spot colour with: black, blue, red,
green and orange.
Delivered by bike within Oxford.
Design & Illustration also available, with discounts for good causes.
Please download our introductory leaflet
(PDF) to see more about our services, some sample prices, and to learn what Risograph printing can offer.  We also offer a range of other related services, including design, proof-reading, sales of paper and card, comb-binding and lamination.

Risograph printing
…is our main focus (though we can do some full-colour laser printing).  Risograph printing  (aka RISO-printing)  uses just a sixth of the energy of the average digital printer and generates only recycle-able paper waste.
   Riso-printing prints one colour at a time.  It needs half-a-day drying time between each pass through the printer.  So a 3-colour job will normally require two days.  At present we have five ink colours: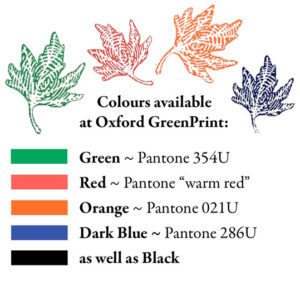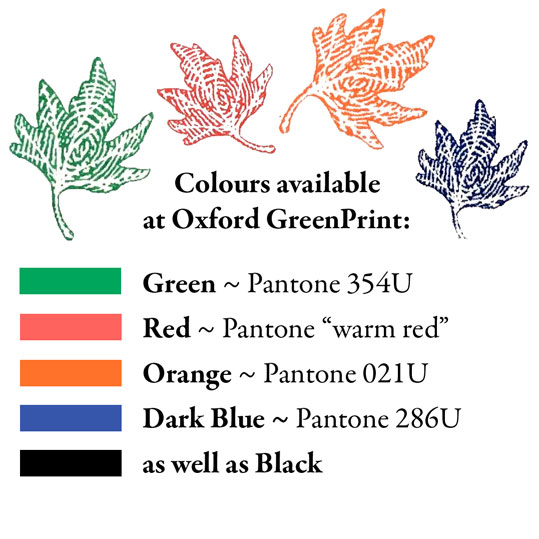 The maximum printable area is 400mm by 280mm.  So it's easiest to simply keep 10mm margins in your designs – what we call "thumb-room".
   Large blocks of dark tone will often print slightly speckled.  Tones of about 70% are normally quite smooth.  Riso is better for bold graphics and images with strong contrast.  Any tones of less than about 10% will probably not print – so any photos or designs that have very light subtle tones will look a bit different if printed on the riso.
   The only main restriction with Riso-printing is "mis-registration" – the tendency of a slight difference in the position of one colour to another.  I.E.  On a two-colour printing, the exact position of one colour will move slightly (1-2mm) compared to the other colour.  It's unavoidable.  But it's fairly easy to allow for this in the design – e.g.: use the two (or three) colours in ways where they do not need to line up exactly, such as blue text on an orange box.
   Combined with 100% recycled paper, Riso-printing is very green and cheap.  Save money and help the planet by choosing Risograph printing at Oxford GreenPrint.
We are 20 years old this year!
Help us celebrate by coming to us when you next need printing.  Twenty years ago Oxford GreenPrint was set up by three friends who realised there was a need for printing that doesn't cost the earth.  Five years ago we became a Workers Coop to reflect our business ethos.
Most of our customers are community groups, campaign groups, NGOs, non-profit social enterprises and local businesses.  We like, when able, to support ethical community groups and projects.  Therefore all prices are negotiable.  We reserve the right to refuse work.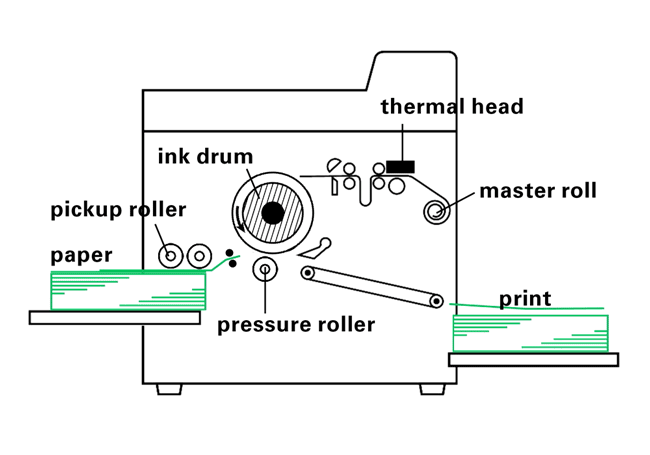 Get in touch for a free quote:
Tel:  01865  682 819            Mobile:  07511  582  736
Email:  mail <at> OxfordGreenPrint <dot> com