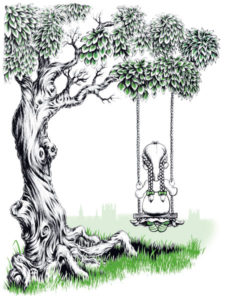 The impact of printing on the environment is often overlooked.  It's not just a matter of using recycled paper: from electricity usage to harmful chemicals, there are many ways the printing industry affects the environment.  And yet, printing has the lowest take-up of environmental policies of any major industry.
At Oxford GreenPrint we do most of our printing on a Risograph printer, which has several environmental advantages:
Inks: Risograph inks are made from vegetable oils, not hydrocarbons, and therefore are healthier to both the environment and the workers.  This makes our printed material compostable.
Electricity usage: a Riso printer uses only a sixth of the electricity of a digital one.  That means our business uses very little energy.
Waste cartridges: unlike toner cartridges (used in laser printers), which are carcinogenic, Rico ink cartridges can be changed without health implications.  And all of our empty ink cartridges are recycled.
Paper: we use only 100% recycled paper made from post-consumer waste paper and card.  This means less trees are felled, and less paper-waste is sent to landfill.  Deforestation is a huge problem in many parts of the world.  It harms local people and wildlife, and often brings soil erosion and increased flooding later.
We do not use glossy paper.  Glossy or pre-coated paper is not normally made with plastic but with a special china clay that is dug out of a huge open-cast mine in Cornwall.  This is a non-renewable resource and makes the paper harder to recycle.
NB:  We do also have a laser printer for the occasional full-colour print-job, such as the cover of a booklet or a poster that relies on full-colour to be effective.  But we encourage our designers and clients to adapt their designs to work on the Risograph printer.